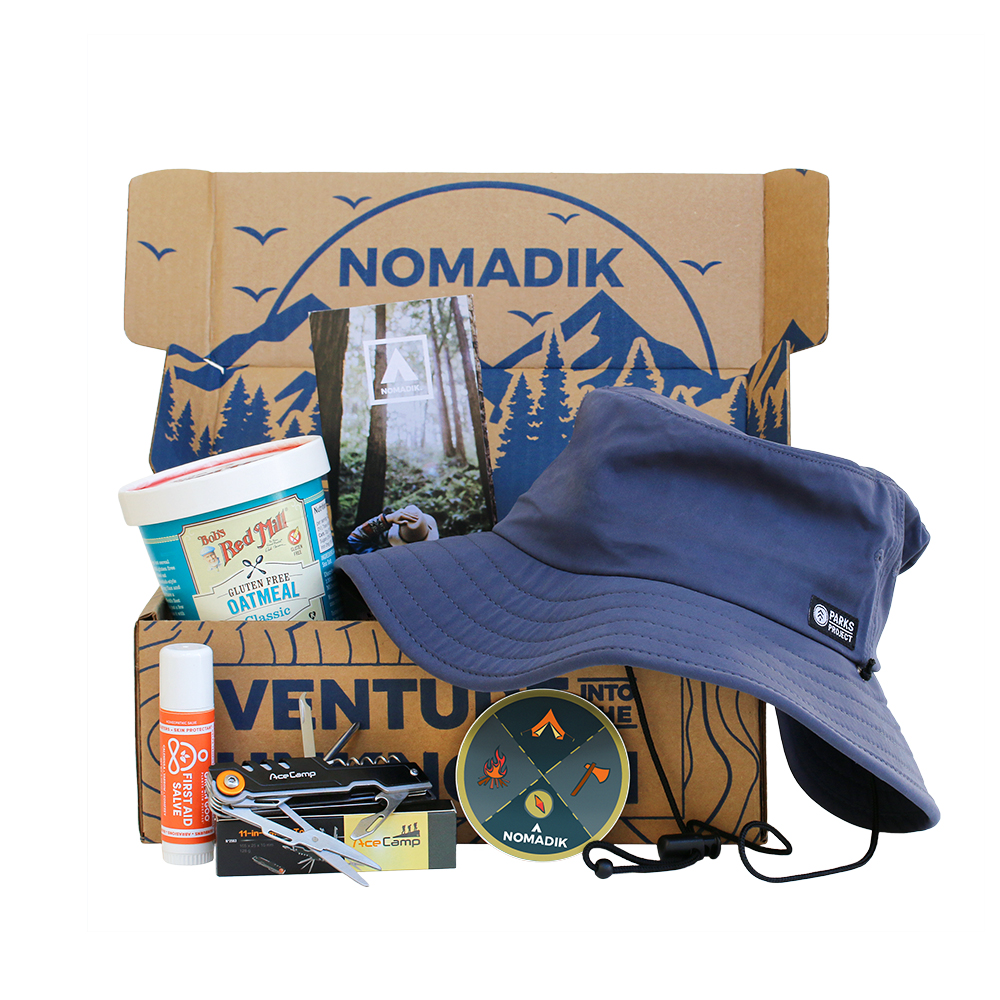 Scouting ($59.49 Value)
$19.99
---
This kit will take you back to those days at summer camp with survival gear, a bucket hat, and a delicious cup of some classic oatmeal!
Parks Project Boonie Hat: Explore better with this lightweight and packable hat that will remind you of the good ol' days at summer camps. This hat is perfect for on the trail and keeps you protected from the sun with the wide brim so you can adventure in comfort. Weighs 2.6oz. (MSRP $32.00)
Ace Camp 11-in-1 Multi-Tool: Take this small stainless steel multi-tool on every adventure, and watch it take on your toughest challenges. Prepared for all, this multi-tool features 11 tools: a knife, saw, scissors, can opener, bottle-opener, Flathead and Phillips screwdrivers, nail file, small pick, thread loop, and corkscrew. Enjoy your adventures by staying prepared. Weighs 4.7 oz. (MSRP $14.95)
Green Goo First Aid Salve - Jumbo Stick: A natural, portable, and power-packed first aid to help promote your body's own healing abilities, this one salve replaces over 20 traditional first aid items and is essential for every adventure. Pack it in your first aid kit to use on cuts, scrapes, itches, bites, blisters, sunburns, chafing, poison ivy, and cracked hands & feet. Weighs 1.1 oz. (MSRP $9.95)
Bob's Red Mill Gluten-Free Classic Oatmeal Cup: This oatmeal cup is about to become your favorite camp breakfast! The simple combination of delicious ingredients, like gluten-free rolled oats, stone-ground Scottish oatmeal, whole flaxseeds, and chia seeds gives you 7 grams of protein and fiber for a balanced breakfast. Just add hot water for a portable, quick, and delicious meal. Weighs 2.4 oz. (MSRP $2.59)
This kit originally dropped MARCH 2021

---

*FREE domestic shipping for orders over $50. International rates vary by location. Orders ship within 2 business days. Cannot be combined with other offers, promotions, or sales.