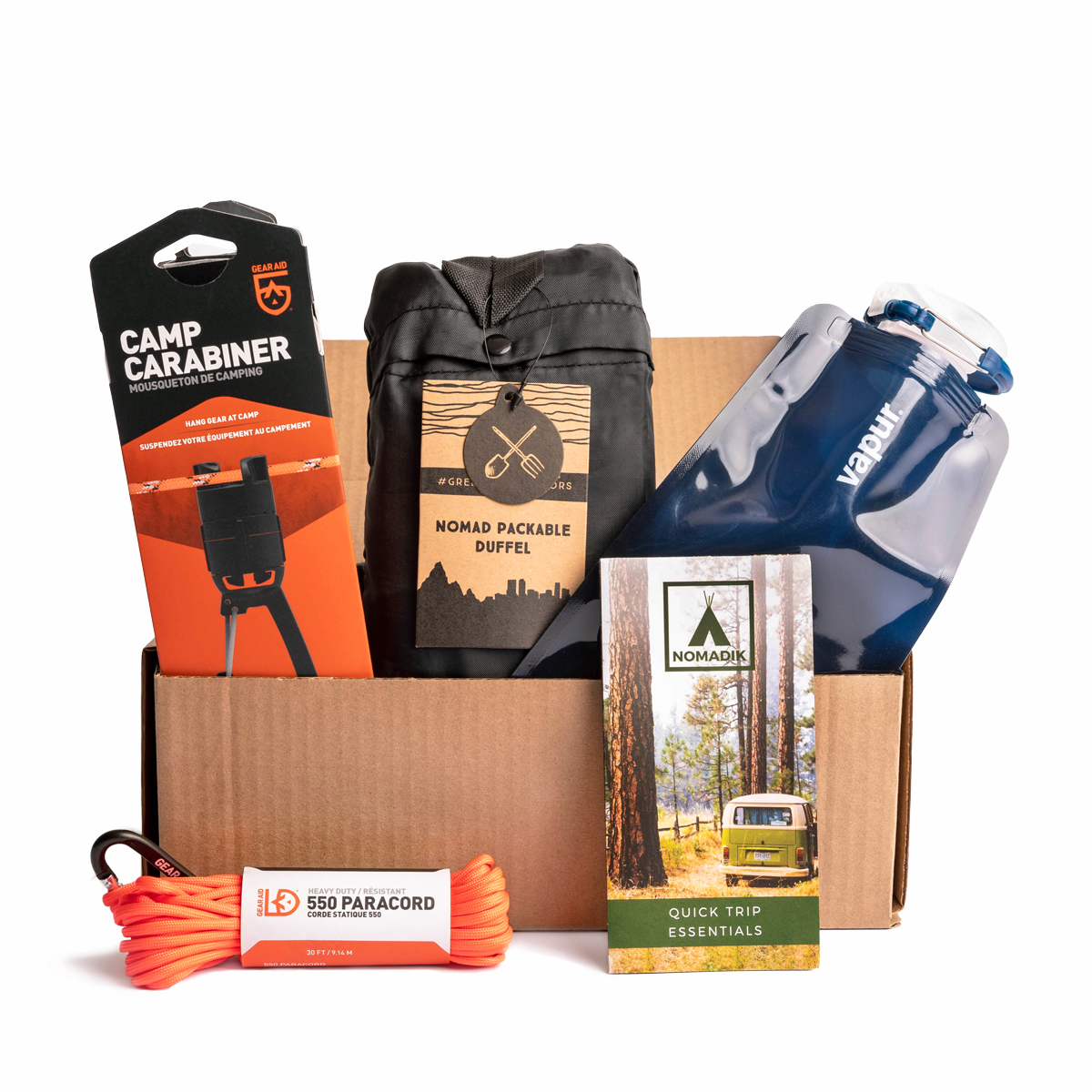 Quick Trip Essentials ($51.00 Value)
$39.99
---
Looking for a few necessities you'll need to hang out in that mountain fresh air? Then look no further than our Quick Trip Essentials. It's perfect for a quick getaway…just add clothes!
Coalatree Nomad Packable Duffel Bag: Don't underestimate how much this 22 L duffel can hold! Small but mighty, the bag is made from a durable reinforced nylon and is perfect for your next trip. Weighs 5.6 oz. ($24 MSRP)
Vapur .07L Wide Mouth Anti-Bottle (Navy Blue or Translucent Gray - Our Choice!): Opposite of your average water bottle, this Anti-bottle is foldable, freezable, reusable and attachable. No more of that cramming to fit the large metal bottle into your luggage. Instead, simply fold and store your anti-bottle in seconds for your next adventure! Weighs 1.3 oz. ($10 MSRP)
GEAR AID 550 Paracord: Stop at nothing to get the job done with this paracord. Built with a 7 strand nylon core, this holds up to 550 lbs. This 30 feet of paracord will ensure that you are well equipped on your next outing! What's all the hype about? This cord is multifunctional and great for tying down, hanging, or securing gear! Weighs 2.6 oz. ($6 MSRP)
GEAR AID Camp Carabiner: GEAR AID's Camp Carabiner makes it easy to suspend gear from your 550 Paracord! The twist-and-clip design keeps your gear off the ground and sturdy on the line because no one likes their gear sliding around! Weighs 2.5 oz. ($11 MSRP)
This kit originally dropped February 2020

---

*FREE domestic shipping for orders over $50. International rates vary by location. Orders ship within 2 business days. Cannot be combined with other offers, promotions, or sales.